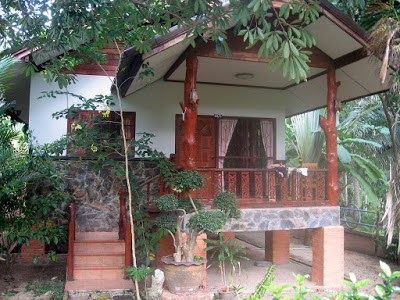 Click above for more pictures


We've arrived on the small, tropical island of Koh Phangan, Thailand.

After a few days, my initial impression is very positive.

The Thai people are very polite and clean. Shoes need to be taken off before entering any building.

Prices are cheap, but not massively cheap. Our small furnished house, with air conditioning in the bedroom, a living room, a kitchen with gas range, and hot water shower, cost 15,000 baht (about $500) for a month, plus about another 3,000 baht ($100) for water, electricity, and ADSL internet that is probably better than an average Bell connection.

A load of laundry can be sent for washing, drying, and folding for 120 baht ($4). That's cheaper than when we did it ourselves at the hostel in Australia.

Western (imported) products cost nearly as much as back home. Food-wise, you can get cheaper stuff when it only has Thai writing – if you can figure out what it is.

A 1.5L bottle of drinking water costs 15 baht ($0.50) in a grocery store.

One odd thing: People don't walk here. Just about everyone drives a motorbike.

We were able to rent a small (110cc) motorbike for 2,500 baht ($80) for the month. It was rented without even checking if we had any sort of driver's license (let along M-class). No helmet was provided, and I've only seen one or two people actually wearing them.

I was able to drive it semi-proficiently within minutes, even with Mel on the back. Corners and slippery surfaces are the most difficult, but when you're going straight at a constant speed, it's remarkably stable.

That said, everyone we've talked to has had some sort of motorbike incident – usually just resulting in a few scrapes and bruises. We'll keep to driving slow and cautiously.





Any tips from others who have visited Thailand?