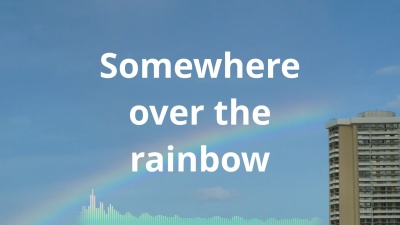 Pop Music
Despite it sometimes being mass-produced and "cookie-cutter", I've always enjoyed certain styles of popular music.
I've produced piles of electronic and semi-classical-style music, but the closest I've ever come to pop was a lighthearted, slightly cheesy 90s dance track called Simplicity (SoundCloud | YouTube).
Today, I'm happy to present another really fun collaboration:
🌈 Somewhere over the rainbow (YouTube) 🌈
This is a cover of the classic by Israel "IZ" Kamakawiwoʻole.
Now don't get me wrong – this song is not "radio-ready" by any means. But perhaps with some extra work and professional mastering, it could be.
I'd like to share a bit of the "behind the scenes" to give you an idea of the hardware and software you can use to produce a modern-sounding pop song in a simple home studio.
Hardware
You don't need a lot of expensive hardware, but there are a few basic necessities. You need a decent audio interface. I was lucky enough to have had a Focusrite Scarlett 2i2 given on "long-term loan" from a musician friend when he upgraded.
You also need a midi keyboard. I have a used Yamaha NP-32 nearly full-sized keyboard for playing piano and string parts, and a smaller AKM320 I can put on my desk for synth and drum sequencing.
To actually hear what I'm making, I have two sets of inexpensive monitor speakers and a controller that lets me quickly switch between them. I also have a good headset, an Audio-Technica ATH-M40x.
Finally, for vocals, I'm using a mid-range Audio-Technica AT2035 Condenser Microphone and I've been very happy with its recording quality.
Software: Reaper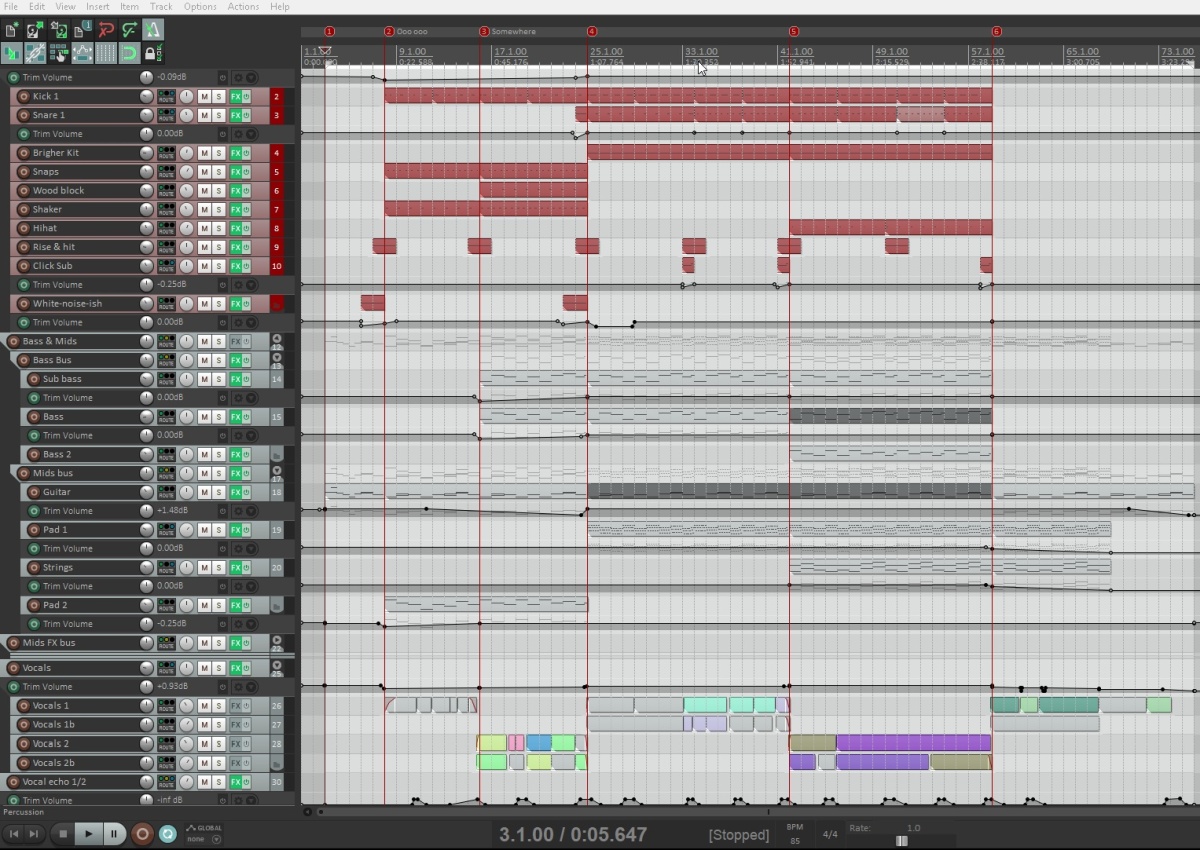 Next, you're going to need a Digital Audio Workstation, or DAW. There are lots of choices, including Ableton, Logic Pro, Pro Tools, and many more.
In the above screenshot, you can see most tracks of "Somewhere over the rainbow" stacked up in Reaper, the DAW I use due to its high feature-to-cost ratio.
It has a fairly high learning curve, but once you figure it out, it's fast, stable, and reliable.
Software: Komplete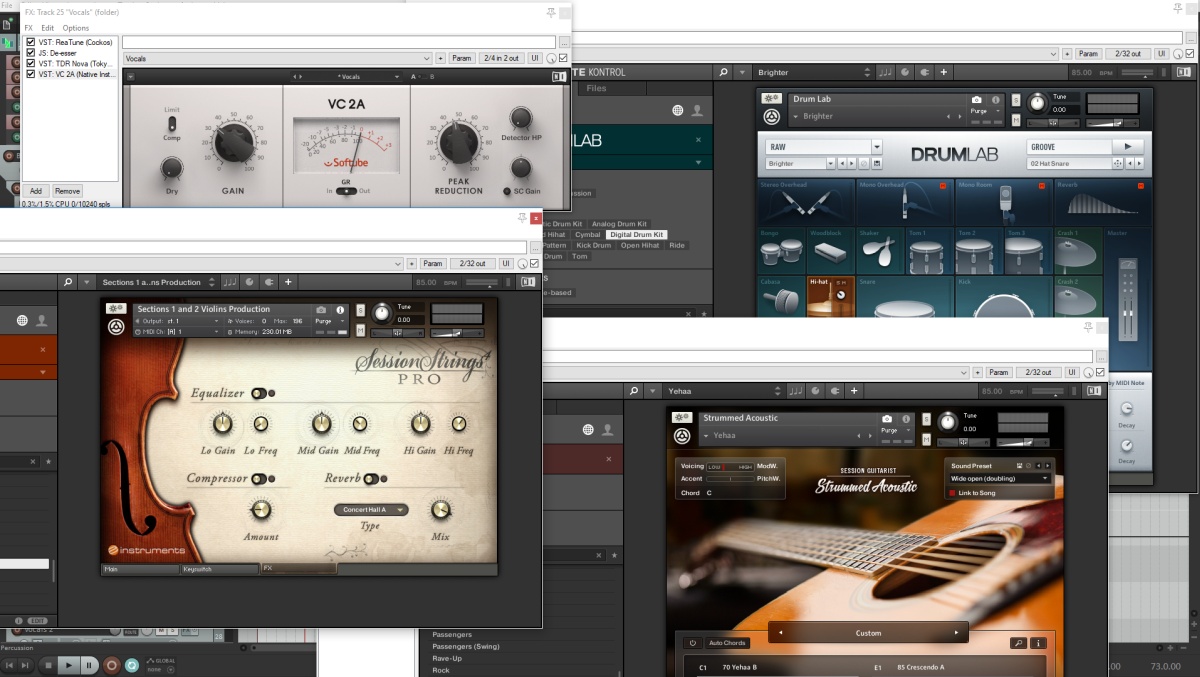 Komplete is expensive and complicated, but well worth it when you consider that it can produce realistic-sounding renditions of just about any instrument or sound you can conceive of.
It's actually a collection of hundreds of "plugins" or "VSTs" – virtual instruments and effects, wrapped up with some tools to help manage them.
There are lots of options in the VST world, ranging from free to several thousand dollars for just one instrument. I've found Komplete to be a nice "one stop shop" and decent value for the money.
Software: Resolve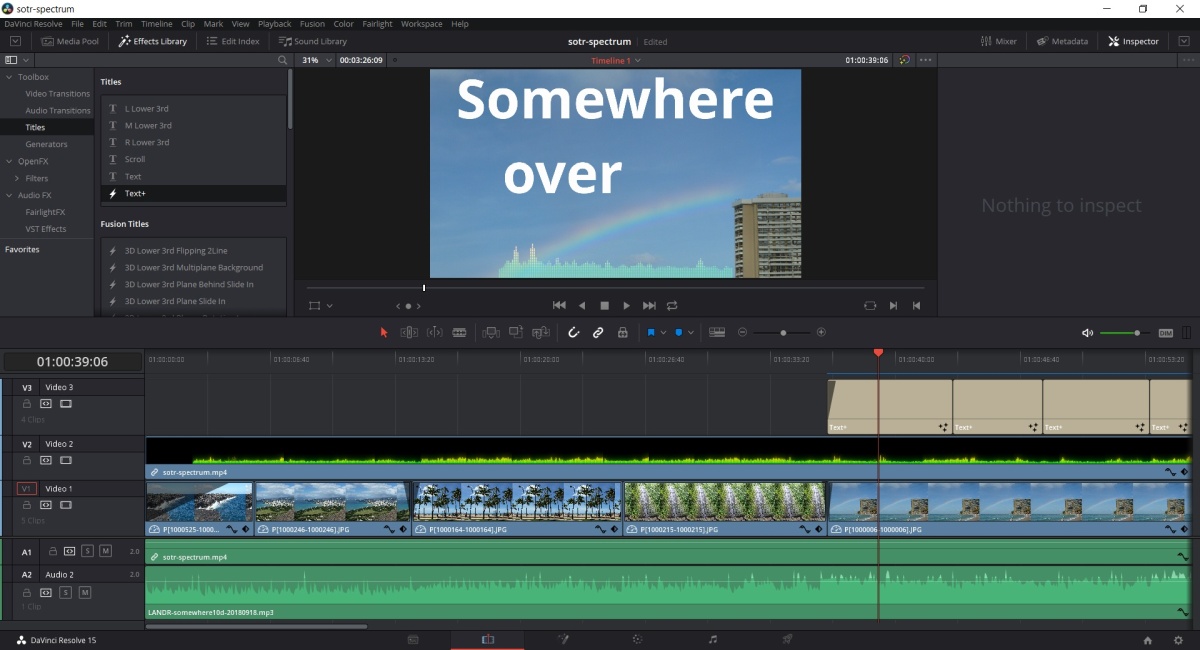 You can't have a modern pop song without a music video!
I've been searching for a long time for a high-quality inexpensive nonlinear video editing (NLVE) package. I've used Adobe Premier but always found it to be bloated and unstable. I also tried Lightworks for a while, but just couldn't get used to its weird interface.
I think I've finally found something I like: DaVinci Resolve. It's relatively stable, has a really intuitive interface, and the entry-level version is actually free!
It let me put together a simple "slideshow" video with our Hawaii vacation photos and sequenced lyrics quickly and easily.
If you're curious, the graphic equalizer overlay was created by an obscure piece of software called "Plane9" that was not at all easy to configure or use, but finally did produce something close to what I was looking for.
Conclusion
So there you have it. As far as I'm concerned, there's never been a better time in history to be able to produce high-quality music from the comfort of your own small home studio. 🙂
Be sure to check out Somewhere over the rainbow on YouTube or SoundCloud and let me know how you think it turned out in the comments.